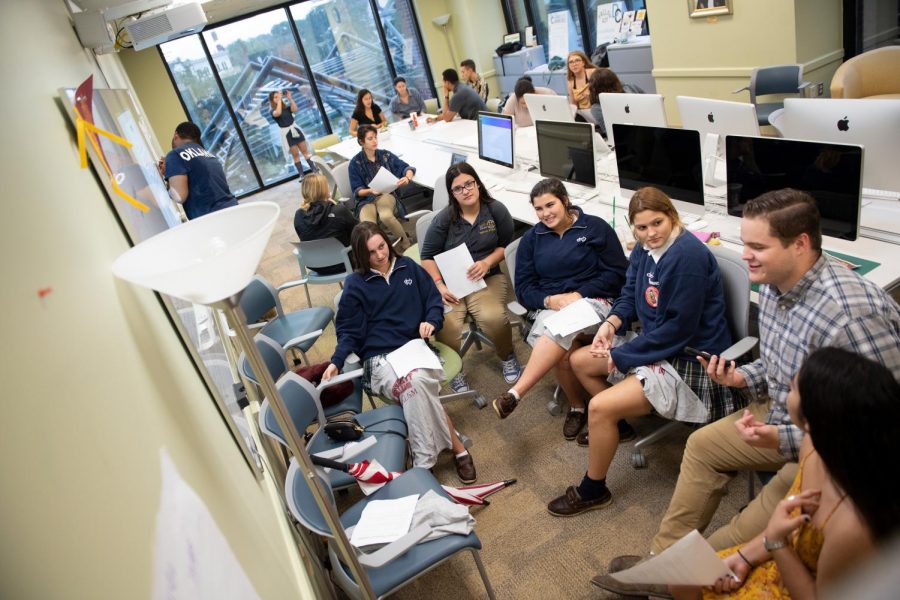 Kyle Encar
Entries are due on Monday, Apr. 19, 2021 at 4 p.m.  Entries will be accepted via email as PDF files, JPEG files or web links.  Entries may also be mailed in but must be received by Apr. 19.  Please fill out the online entry form for every entry.
CLICK HERE: Entry Form for Tom Bell Silver Scribe awards
All email entries should be sent to: [email protected]
Postal mail entries should be sent to:
Loyola University New Orleans
School of Mass Communication: Silver Scribe
Campus Box 201
6363 St. Charles Ave.
New Orleans, LA 70118
Below are the categories for the 2019 Tom Bell Silver Scribe Maroon and Gold Journalism Competition.  Each school can submit two entries per sub-category.  Award winners will be announced during a virtual awards ceremony on Friday, April 30, 2021.
Writing Category – Online and Newspaper
News writing
Sports writing
Feature writing
Headline writing
Editorial writing
Photography Category – Online and Newspaper
News photograph
Sports photograph
Feature photograph
Website Category
Publication website
Event website
Broadcast Package & Videography Categories
Broadcast news story
Broadcast sports story
Broadcast feature story
Entertainment video (music video, skit, etc.)
Broadcast videography
Broadcast Show Categories
Daily/Weekly news show
Monthly, bi-weekly or less frequent news show
Daily/Weekly sports show
Monthly, bi-weekly or less frequent sports show
Live Event Broadcast Show Categories
Sporting event
Non-sporting event (graduation, school play, concert, etc.)
Broadcast Public Service Announcement (PSA) Categories
:30 second or less PSA
:31 – :60 second PSA
Longer than :60 seconds PSA