Fall 2018: ESPN's Michael Smith JEA/Loyola Keynote Speaker
ESPN's Michael Smith will be the keynote speaker and session presenter for the Fall 2018 JEA/Loyola Journalism Conference. Michael will deliver the keynote at 9:30 a.m. to open the conference on Thursday, September 27, 2018.
Michael Smith is an anchor, commentator, and reporter for ESPN. Since joining the network in 2004, Michael has regularly appeared on ESPN studio programs in a wide variety of roles, including as Co-Anchor for the for 6 p.m.eastern weekday edition of SportsCenter, ESPN's flagship program; as an NFL reporter and insider for SportsCenter, NFL Live and Sunday NFL Countdown; and in 2016 as the co-anchor for Fantasy Football Now.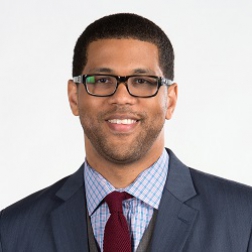 From 2011-2017, Michael co-hosted a daily midday talk show, first entitled Numbers Never Lie and later re-named His & Hers, after his popular podcast. He also periodically appears as a panelist on Around the Horn and was a correspondent for ESPN's news magazine show, E:60, from 2007-10.
Prior to joining ESPN, Michael was a reporter for the Boston Globe, serving as the paper's NFL and New England Patriots beat writer. Michael began his journalism career while a student at Loyola University in his hometown of New Orleans, serving as a sports reporter and copy editor for the New Orleans Times-Picayune and sports columnist for the award-winning Loyola Maroon.
Michael attended Loyola University receiving his BS in mass communication (2001). He lives in Farmington, Conn., with his wife and three children. Michael is a member of the 2017 Class of Henry Crown Fellows within the Aspen Global Leadership Network at the Aspen Institute. Michael is also a member of the Loyola School of Mass Communication Den of Distinction.