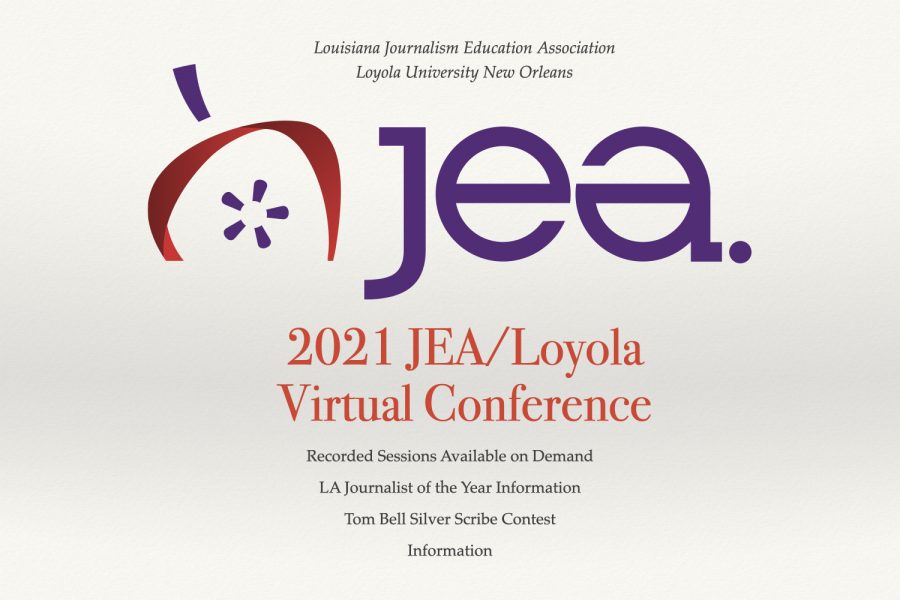 Welcome to the 2021 JEA/Loyola Virtual Conference.  We cannot wait until we are able to host you on our campus next year, in person.  Until then, we have pulled together a variety of presentations of interest to Journalism students and advisers in yearbook, broadcast, online, and social media.
CLICK HERE: Welcome Video and Overview of Presentations
In the Spring of 2021 will be hosting the JEA Louisiana State Journalist of the Year Competition and the Tom Bell Silver Scribe Awards.  Those deadlines will be March 1, 2021 for Journalist of the Year and April 19, 2021 for the Silver Scribe.   Silver Scribe information will be available in late-February.
For the 2021 Virtual Conference we wanted to give advisers as much flexibility as possible.  We decided that recorded sessions would allow advisers to use as they wanted in their classrooms and virtual classrooms.
CLICK HERE: YouTube Playlist of all JEA Virtual Conference Videos
Click on Links Below for Direct Access to Virtual Conference Videos For Students & Advisers
Ghosted: Your Relationship With Social Media and Your Followers by Mary Staes
Photoshop Tutorial by Ty Stude
Ignite Your Learning with Adobe Spark by Don Goble
Broadcast News Packages for the Win by Don Goble
https://www.dongoble.com/
High School Sports Game Coverage by R.J. Morgan
Audio, It Really is Important by Albert Dupont
NewTek Tricaster & NDI Tips and Tricks by Albert Dupont
Journalism Ethics: Doing What's Right by Joe Mirando
How to Develop a Story Idea – Crafting the Pitch – by Jennifer Larino (coming soon)
Guide: Getting the Idea (Worksheet)
Guide: Developing a Story Idea (Worksheet)
NOLA.com Article
Workshop Survey (Google Form)
My email: [email protected]
Five Things You Don't Want to Miss on the JEA Digital Media Site by Aaron Manfull
https://www.jeadigitalmedia.org/
10 Tips to Get a Solid System in Place to Report Breaking News by Aaron Manfull
Presentations For Advisers
Deadlines Decoded by Michael Giusti
Surviving as a Yearbook Adviser by Mary Kay Downes
Benefits of JEA Membership by Sarah Nichols